Your everyday activities actually have a significant impact on what you see in the mirror, so having great skin is not only a question of genetics. Nonetheless, there are an inordinate number of opinions on everything from how to moisturize to how to protect yourself from UV rays, depending on which product reviews you read or doctors you consult.
In the end, skin care is only a matter of personal preference. To break through the noise, keep in mind the following.
Best Skin Care Routine:
Consider your skin care regimen as having three essential steps:
Cleansing — Washing your face.
Toning — Balancing the skin.
Eye Cream — For dark circles.
Moisturizer — Hydrating and softening the skin.
Suncreen — To block harmful sun rays.
Any skin-care routine should aim to maximize your complexion's functioning as well as fix any problem areas. As you get older, your skin will need different products. Make these three steps your daily skincare routine and a way to relax.
The most fundamental and important step for the best Skin Care routine is washing your face. Every day, environmental toxins, dirt, and other substances come into contact with our skin and should be properly removed. To prevent clogged pores, dullness, and acne, wash your face twice daily, morning and night.
The right formula cleanses your skin without stripping essential, healthy oils.
Also read: Superfoods for glowing skin
After cleaning the skin with fingers, a cotton ball, or a cloth, toners are applied to dryness before other leave-on skincare products including serums and moisturisers. In addition to giving your skin an extra amount of active ingredients, a good toner may assist guarantee that it is completely clean and free of dirt.
Although you don't need a toner, applying one can be a great method to balance pH, refresh skin, and remove any remaining debris. Today toners are far more complex than the astringent- and alcohol-based formulas of the past, and they are filled with skin-improving advantages that may make you glow.
If you're seeking additional complexion-purifying and brightening effects, these toners can help. Depending on your skin type, the following ingredients are ones you should search for:
Look for a toner with hydroxy acids, such as salicylic acid and lactic acid, which promote cell turnover, if your skin is prone to acne.
Look for a moisturizing toner (or its sibling, an essence) without drying alcohol and with calming components like glycerin and hyaluronic acid for dry or sensitive skin.
Use gentle exfoliants, hydration enhancers, and antioxidants like vitamin C, vitamin E, and green tea for combination skin because these can fight off free radicals and stop skin damage.
Look for astringents that tighten pores, such as alcohol or witch hazel, for oily skin.
Read about: Detox diet for super healthy and glowing skin
Serums are effective skin buddies, to put it simply. These elixirs, which contain concentrated amounts of active ingredients, can reduce wrinkles and dark spots as well as other problems.
Everyone requires a general antioxidant serum in the morning to guard against daily aggressors, even if they don't have any particular problems. Look for the following products to handle specific problems:
Hyaluronic acid helps to lock in moisture and strengthens the skin's top layer's barrier function, preventing moisture loss.
With continued use, vitamin C can help brighten dull skin and lessen dark spots.
Vitamin B3, retinol, and peptides encourage the body's creation of the proteins collagen and elastin and help prevent lines and skin sagging.
Colloidal sulfur and niacinamide calm redness and irritation by decreasing inflammation and improving acne with their antimicrobial effects.

Eye Cream
Since eye creams are designed specifically for the sensitive eye area, which ages more quickly than the rest of your face, that's why eye creams differ from face creams and also fall under the "treat" category. An eye treatment product is definitely an excellent choice if you're concerned about fine lines, wrinkles, a lack of firmness, dark circles, or undereye bags.
Consider using niacinamide or vitamin C to reduce dark circles, and caffeine to reduce puffiness. Look for compositions with retinol and peptides for wrinkles and sagging skin. Hyaluronic acid moisturises dry skin, while vitamin K can help lighten dark under-eye circles.
Use a product that targets your eye-area problems by applying it with your ring finger to avoid tugging on this delicate area and causing damage in the morning and at night.
Face moisturisers are the next in line since they keep your skin hydrated, and soft, and aid to improve its layer. Use a lighter moisturiser during the day, such as a lotion or gel that will absorb fast and won't pill under makeup, if you have oily or acne-prone skin. Use a cream or other richer composition if your skin is dry.
In either case, physicians advise using moisturisers throughout the year for all skin types because maintaining proper hydration is essential for maintaining a glowing look. As ceramides and hyaluronic acid are the fundamental components of skin moisture retention, look for these ingredients in skincare products.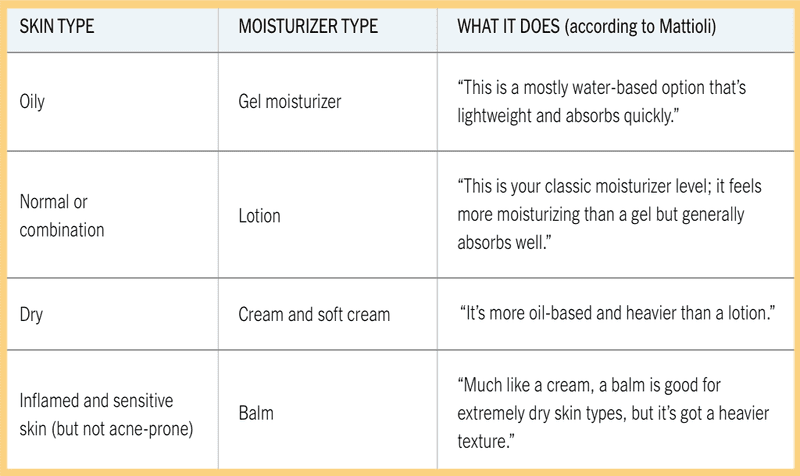 Choosing a moisturiser formula for your skin type can be done as follows:
Dry skin: The key is a rich cream including ceramides, emollients, humectants, and occlusives.
For oily skin: Opt for lightweight lotions or gel-based solutions marked "non-comedogenic" or "oil-free" if you have oily or acne-prone skin.
Fr sensitive skin: Look for formulations that are hypoallergenic and free of potential irritants, such as fragrance and alcohol, if you have sensitive skin.
According to dermatologists, using sunscreen is the first step in any skincare regimen for people of all ages and skin types. I f you don't use sunscreen, you might as well skip all of the other stages. The sun is the main cause of accelerated ageing of the skin. No matter what colour your skin is, the damage goes beyond the visible. People of colour can and do develop skin cancer. Without using a daily SPF, correcting hyperpigmentation is like making two steps forward and one step backward.