Are you looking for protein rich breakfast recipes to make your morning meal more nutritious? If that's the case, keep reading because we've compiled a list of the most delectable, yet healthy protein-rich breakfast options.
Proteins are essential for achieving the body you desire, as a well-balanced diet rich in essential protein aids in muscle tissue growth, development, and repair, as well as muscle tissue metabolism. When it comes to helping your body adapt and stay lean, the importance of protein cannot be overstated.
Increasing your protein intake is the most effective way to build or maintain muscle.
A good starting point is 25 to 30 grams of protein per meal, with one or two snacks per day providing additional protein. Spreading protein intake throughout the day is necessary for maintaining muscle mass and minimizing hunger. It can help build muscle, prevent muscle loss and even provide an assist with weight loss diet.
Breakfast recipes that are high in protein are a must-have! Only a protein-rich breakfast can provide the most essential nutrients and vitamins. It keeps you energized, healthy, and ready to take on the day. The allure of a cooked bacon breakfast can sway people, but it's not an easy decision to make.
Three times a day, you must prepare, cook, and eat. It can be even worse for women. A woman's situation is likely to be more difficult due to weight-related concerns, menstrual-related health issues, and pregnancy.
That said, here are a few protein rich breakfast recipes, and healthy breakfast options that can help you lose weight that is delicious and can further fulfill your body's nutritional requirements for the day.
Recommended protein rich breakfast recipes
1. Mocha banana protein smoothie bowl
Protein smoothies are a great way to get your protein while also being light, tasty, and easy to make. This protein-packed bowl includes chia seeds and your choice of protein powder, for a total of 20 grammes of protein and a visually appealing meal. For a protein intake closer to 25–30 grams, add nuts or almond butter, seeds, and fruits, and replace almond milk with soy or cow's milk or Greek yoghurt.
2. Chickpea pancakes
The Jumbo Chickpea Pancake is a delicious vegan dish with a sweet and savory flavor combination. One large pancake contains at least 10 grams of protein. Simple ways to get at least 10 grams of protein include a side of vegan sausage or a few vegetarian crumbles tossed into the batter.
3. Banana pancakes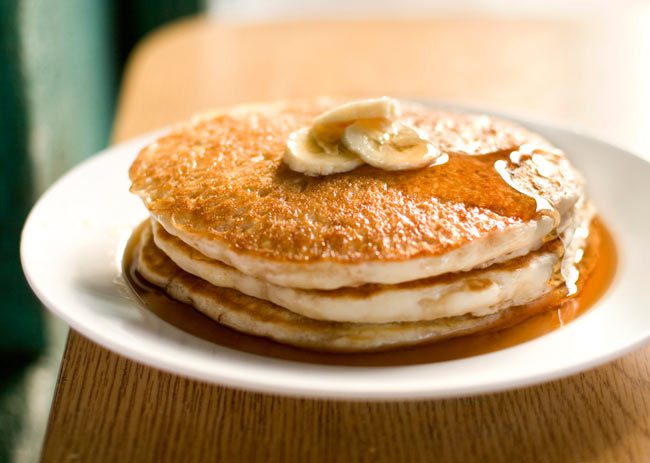 Anyone can make a delicious protein pancake, but with this grain-free version, which only uses coconut flour and a few other ingredients, you can elevate your standard morning meals. The sweetness comes from bananas and other sweet fruits, and five pancakes provide about 28 grams of protein per meal.
4. Breakfast wraps with spinach and feta cheese
For a stress-free morning, breakfast can be prepared ahead of time. These protein-rich breakfast wraps can be frozen and contain 25 grams of protein. This is not only a fantastic alternative for food preparation.
5. BLT Breakfast Salad
Although eggs are a great source of protein, they can get boring after a while. To add more protein and healthy fats to a salad, add hard-boiled eggs, bacon, and avocados. Yum! For an extra 5–7 grams of protein, add 1/4 cup shredded cheese, such as American Trusted Source or mozzarella Trusted Source, to this salad.
6. Quinoa with eggs, and salmon
Quinoa isn't a common breakfast cereal, but it's a protein-packed match made in heaven when paired with fried eggs and smoked salmon. The three main ingredients are all extremely nutritious, and they combine to make the perfect flavor combination to satiate your hunger first thing in the morning. Increase the amount of animal protein per serving by adding 2 ounces (57 grammes) of salon trusted Source and 2 eggs to make it even more nutritious.
7. Breakfast Paleo fried rice
This easy one-pan breakfast recipe will brighten up your day and may even tempt you to eat some more! It's Paleo or Whole30 friendly because cauliflower rice is used instead of regular rice. The soup is flavoured with mushrooms, bacon, garlic, and red pepper flakes. Per cup of rice, there are about 7 grammes of protein. Spread out a slightly larger quantity of rice (1 cup) and top it with two eggs to make the perfect protein-packed meal.
8. Mexican stuffed sweet potatoes
This magical protein rich breakfast recipe is something that can make you feel energized in no time. This quick recipe for Mexican stuffed sweet potatoes provides 12 grammes of protein to help you get through the day when you're short on time, but you won't have to sacrifice taste! For a deliciously unusual breakfast, add more beans, eggs, or cheese, or top with healthy condiments, or use 1 ounce (approximately 28 grammes) plain Greek yoghurt as a sour cream substitute.
Conclusion
So there you have it: some of the best protein-rich breakfast recipes! Starting your day with one of these delectable breakfast recipes can make a significant difference in how your body feels throughout the day. In terms of variety, flavour, or satisfaction, you won't have to settle for less.
Eating a good morning breakfast is the most effective way to start your day and provide your body with the nutrients it requires. You could make a protein-rich breakfast with eggs, bacon, sausage, hash browns, cheese, fruit, yoghurt, and more in the morning!
Protein-rich breakfast recipes, such as eggs, nuts, and meat, as well as dairy products such as milk and yoghurt, and even vegetables, are a great way to provide your body with a quick protein boost.